MCC Cosmetology Program offers services for community again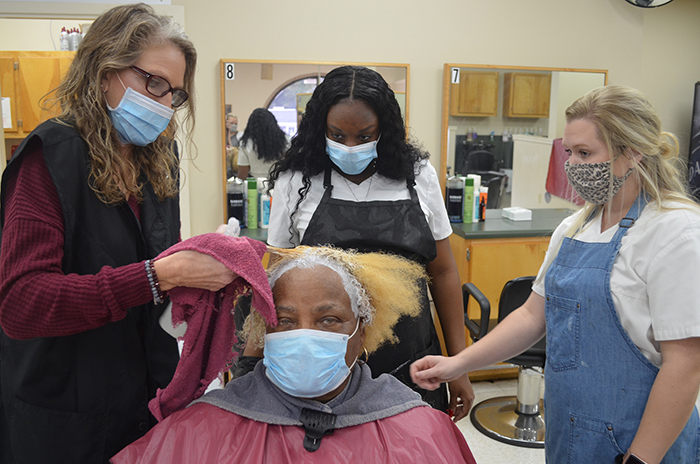 For 72-year-old Meridian resident Thelma Hicksman, sitting in the chair with a cape around her neck as two students followed their instructor's directions for timing a hair chemical treatment was like coming back home. "I think this is great. I couldn't wait for them to re-open," she said.

She was so eager that she admitted, "I would call every other week and ask, 'When will y'all be open?'"

There's an anonymous saying that good hair speaks louder than words. At Meridian Community College's Cosmetology Program, there are volumes.

Designed to prepare students to care for hair, hands, feet and complexion, the Cosmetology Program combines classroom, lab and clinical training in compliance with the Mississippi State Board of Cosmetology Standards. The salon is located on the MCC campus in the College Park Shopping Center.

"We do manicures, pedicures, haircuts, roller sets, permanent waves, chemical relaxers, color, waxing, facials … a little variety of everything," said Tanya Wright, instructor and program coordinator for Cosmetology.

Community residents often serve as clients for the students. "We want the community to know how important they are to us and how much we appreciate them allowing our students to utilize their cosmetologist skills before entering the professional industry," Wright said.

Wright noted for the first week back on working with clients, the students were nervous – at first – and they have enjoyed working with and interacting with the clients. Third-semester student Adrian Moore, 21, of Kemper/Prattville, said she relishes learning the techniques of her future career. "I love it because I get to do different things and getting the clients to feel satisfied," she said, adding, "I enjoy talking to people."

Learning how to style hair has always been a desire for fellow third-semester student Amber Clearman, 28, of Little Rock. "This program offered more cosmetology classes," she noted.

The students, instructors and clients are also learning on how to navigate services such as those performed by the MCC Cosmetology Program in the COVID-19 environment. And so proper precautions are being followed. "The students are wearing gloves when need, masks or shields as well as protective drapes over their regular uniform," Wright said.

Everyone uses hand sanitizer before work is to begin.

Wright said clients are only seen by appointment. "When the client arrives for his or her appointment, the door is locked and they must call to let us know they have arrived. When the client comes to the door, we check their temperature, and the client must always be wearing a mask the entire time they are in the Cosmetology building," she said.

MCC alumna Mirea Caraway (Class of 1953) returned to salon needing a haircut, especially as she trimmed her hair since COVID. "I need it straightened up," the 87-year-old said.

"I've been coming here for some years now," Caraway said. "I feel like helping the students and I like the haircuts." She also noted because of the low-cost fees for the cosmetology services, "it helps when you're on a limited income."

Currently, the program accepts clients on Wednesdays and Thursdays, with appointments from 8:30 a.m. to 2 p.m. The salon is closed from noon to 12:30 p.m. for the lunch break. For more information, call 601.484.8867.