MCC students selected for Circle of Excellence honor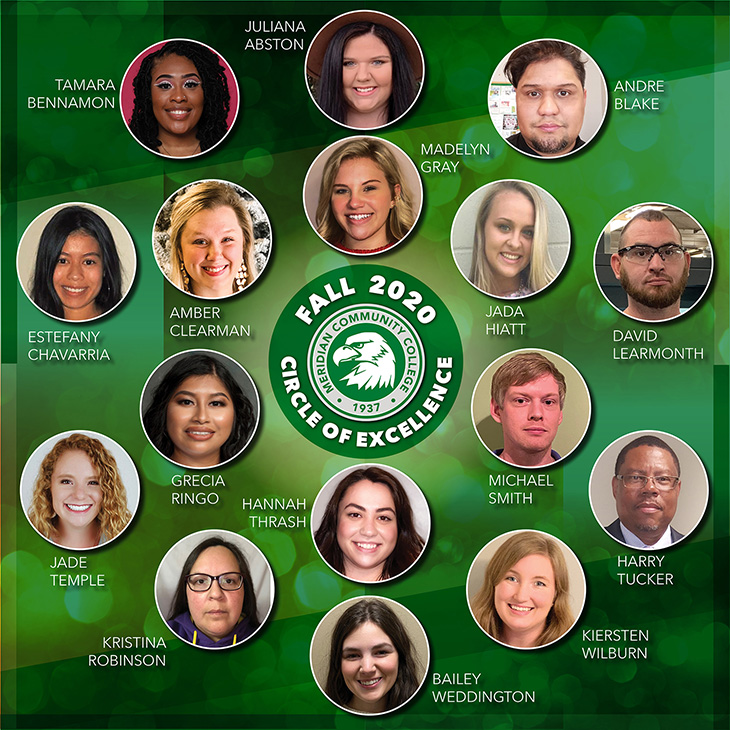 Sixteen Meridian Community College graduates have been chosen as members of the Fall 2020 Circle of Excellence.
The students, who studied in both the College's University Transfer and career and technical education programs, are saluted for their academic achievement, leadership, community service and spirit.
Michael Thompson, dean of academic affairs, said the College established the Circle of Excellence designation to recognizes outstanding MCC graduates during graduation ceremonies. "These graduates are nominated by MCC faculty and staff," he added.
College faculty and administrators applaud the students' efforts. "To be chosen for this honor means a student performed exceptionally well academically, and was also a contributor to their community in serving others," said Joseph Knight, MCC vice president for workforce solutions. "Simply put, they are students who strive for academic excellence and help others along the way."
Honorees are humbled to be selected. "I was honored when I learned I was selected as a Circle of Excellence honoree. I have worked extremely hard to keep my grades up and to be active on campus as well as the community, so being recognized as an honoree proved to me that my hard work paid off," said Jada Hiatt.
Hiatt said she chose to study at MCC because it was the best financial decision for her. "It was close to home, so I would not have to worry about living on campus, and MCC has some of the best scholarship opportunities," she said.
She added, "MCC gave me the opportunity to have an awesome college experience without struggling to pay for it."
MCC President Dr. Thomas Huebner said MCC has a long history of outstanding graduates, and the Circle of Excellence is one way the College recognizes these students who have excelled during their time at MCC. "These students have made an impact on this place, and we look forward to watching them take flight and impact the world," Dr. Huebner said.
University Transfer Program Circle of Excellence students include Estefany Chavarria, Madelyn Gray, Jade Temple and Bailey Weddington, all of Meridian. They are all students in the University Transfer Program. Chavarria plans to study secondary education; Gray plans to study risk management and insurance; Temple plans to study kinesiotherapy and Weddington plans to study elementary education.
Career and Technical Education Circle of Excellence students are Jada Hiatt of Stonewall; Grecia Ringo of Lawrence; Harry Tucker of Meridian; Kiersten Wilburn of Brandon; Kristina Robinson of Philadelphia; Michael Smith of Meridian; Juliana Abston of York, Ala.; Tamara Bennamon of Meridian; Amber Clearman of Little Rock; Hannah Thrash of Philadelphia; Andre Blake of Meridian and David Learmonth of Collinsville. Hiatt, Ringo, Tucker and Wilburn are students in the Associate Degree Nursing Program; Robinson and Smith are Computer Networking Program and Computer Technology Program students; Abston, Bennamon, Clearman and Thrash are Cosmetology Program students; Blake is a Culinary Arts Technology Program student; and Learmonth is a Precision Machining Engineering Technology Program student.